La clase (Entre les murs, 2008) narra la experiencia de un profesor que enseña lengua en un instituto de una ciudad dormitorio de París, repleta de adolescentes de todas las razas, hijos de inmigrantes y franceses de clase baja.
A nadie pasó inadvertida esa imagen de los Juegos Olímpicos de Beijing 2008: un joven, una niña de cinco años y un piano de cola blanco. El joven era Lang Lang, un pianista chino nada corriente.


DEVO 2.0 es un experimento que intenta acercar la música del mítico grupo DEVO a los niños de entre 5 y 8 años.

¿Qué cuentos leen los niños con discapacidad, o con padres divorciados, o los adoptados, o en minoría racial, o con padres de un mismo sexo? ¿Hay cuentos en las librerías con los que se puedan sentir identificados los niños de las familias del siglo XXI?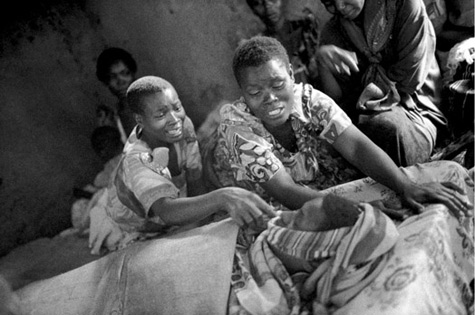 Interview with photographer Steven Shames
«Barack Obama was one of these disposed kids»
It all started here, at the funeral in the photo above, but it actually comes from long ago. Since the beginning of his career as a photographer in 1967, Steven Shames has shown a clear interest: the lives of disadvantaged, abandoned and poor children. His images are stunning documents which speak for themselves, and are part of permanent collections of institutions like the International Center of Photography in New York, or the National Portrait Gallery in Washington, to name a few. Nine years ago, Shames was in Uganda, working on a story of AIDS orphans, and photographed the funeral of a woman, who left five orphaned children behind. The youngest, just a few months old, was called Sarah. Steven Shames decided to take over the education of the little Sarah, her family, and later also of a dozen orphans from the village. He wanted them to attend the best schools in Africa. In 2004, his interest had grown to an unprecedented educational project: LEAD Uganda. Today, the lives of more than 70 children, including Sarah, have been transformed. Steven Shames tells us the details of this fascinating adventure in this interview.
KINDSEIN: Childhood and fatherhood issues seem to be your central point of interest since you began taking photographs in 1967. Is there any reason?
STEPHEN SHAMES: I had a rough childhood due to abusive relationships with my dad and mom. I search through photography for what I didn't have as a kid with my own parents; love, support, encouragement, etc. In my early work, I explored abuse and neglect. In my later work, I create a world, a family I could not have as a child. My work is a healing process for me. My work is also about survivors, about people, especially children triumphing over adversity. I am a survivor. That is another of my main themes. My work is about children and youth surviving —in fact prospering— in a hostile environment. It was not a reach to see why I want to help children who have had a tough life and are survivors.
«Attitude is everything»
KINDSEIN: LEAD Uganda, according to the website, «is an educational leadership initiative that locates forgotten children with innate talents and molds them into leaders». What do you mean with "innate talents"? Do you look for kids with high IQ?
STEPHEN SHAMES: We look for students with high intelligence, but also with a drive to accomplish something. When I was an editor on a newspaper, I used to hire photographers. I looked for talent, but more importantly, I looked for attitude. Attitude is everything. We search for children with an attitude to succeed and a willingness to work hard -- in short, survivors.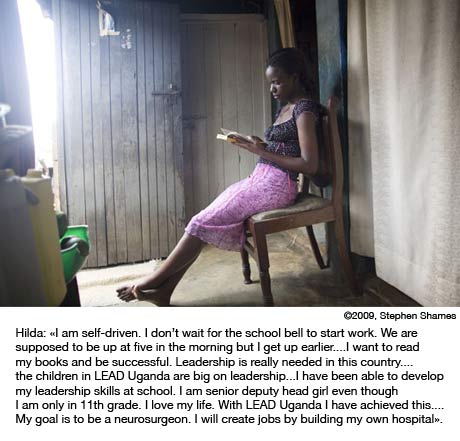 KINDSEIN: LEAD children have experienced horror. Some of them witnessed their parents' murder, others have been forced to kill... In such terrible situations, education must be the last thing you think about.
STEVEN SHAMES: Never underestimate the intelligence and imagination of young people. Africans know how important education is. Actually is desperate situations it is the first thing they think about. It is their only option. Kids will walk 5 miles or more to go to school. They walk barefoot on empty stomachs to fill their minds with knowledge.
KINDSEIN: In your search for survivors, who surprised you more?

STEVEN SHAMES: When I photographed Holocaust Survivors, I was struck that some had a positive attitude. What inner source of strength did they draw on to have that attitude? Later, in other essays such as Pursuing the Dream: What Helps Children and Their Families Succeed I explored what would help children get this attitude.
I did a photo essay on Stephen Hawking for a magazine. Hawking told me that because he has Lou Gehrig's disease, the university does not require him to teach. This is a good thing because he can devote all his energies to his work, "I can spend all my time thinking about the universe." That attitude of his changed my life. To transform his handicap into a strength.
What I learned is that our strengths and weaknesses are in fact the same thing -- it just depends on how you apply it. An example, being stubborn can be very negative if you refuse to listen to others or change you opinions when confronted with new facts. On the other hand, being stubborn is a strength if you refuse to give up your dreams in the face of overwhelming odds, and then succeed. Attitude is everything.
A new life
KINDSEIN: ¿How do you discover that attitude in the children?
STEVEN SHAMES: This is subjective. It requires us to listen to them, to see if they have that sparkle in their eyes, to determine if they are tough enough to make it. We talk to their teachers, guardians, neighbors. We look at their school reports. But the most important determination is to ask them what they want from life.

KINDSEIN: How is their new life from that moment on?

STEPHEN SHAMES: Once we chose a child, we will usually keep them in local schools for a year to monitor their progress. We give them support during this probation period. The Ugandan staff also gives them a high level of emotional support. Our children need to heal. We also give them a family, a place to exist in this world. We heal by moving forward, rather than lingering on their suffering.
KINDSEIN: ¿Do you think you have chosen well?
STEVEN SHAMES: Yes, because our kids are extraordinary and their academic and leadership success speaks for itself. These AIDS orphans, children living in refugee camps, former child soldiers, former sex-slaves, street kids, and child laborers are excelling in school. Twenty maintain "A" averages, and eleven received first grades on their national exams. One has been accepted at the African Leadership Academy in Johannesburg, one of Africa's top high schools. A dozen hold leadership positions at their schools. We also have talented video cameramen and artists. Two of our students are writing books.
«Outsiders can not make Africa independent»
KINDSEIN: Do you think education is the key to transforming Africa?
STEVEN SHAMES: Education will not do this all by itself, but it is a key component of the solution. Change is accomplished by movements, groups of individuals working together. Education gives people in movements, the skills they need.
Educating leaders in sub-Saharan Africa is especially important because the AIDS pandemic devastated the educated and managerial classes: teachers, civil servants, army commanders. Insecurity in northern Uganda has affected two generations while devastating the region's infrastructure. Outsiders can not make Africa independent. Nor can they create institutions that will provide justice and prosperity. Only indigenous leaders can accomplish that. That is why it is important to educate and train leaders.
KINDSEIN: And that is what LEAD Uganda does...

STEPHEN SHAMES: Yes, our distinctive, original vision is seeing that the solution to Africa's problems exists in the hearts and minds of the current, generation of neglected and excluded children. But it is trapped there, lost because they lack the means to reach their potential. Tomorrows saviors are wasting away in IDP camps, sleeping on the street, working in rock quarries to feed younger siblings. We see them as a valuable resource who will transform Africa, if they can get to school and develop their minds.

The United Nations has called poverty the most effective poverty alleviator. In the United States, education is the highway to success for millions of immigrants. Knowledge is the pathway to economic growth. An educated, technological elite is guiding India to super-power status. Thus far, the digital age has benefited countries such as India that made a concerted effort to train leaders and harness their energies. Africa is worse off.
KINDSEIN: Why?

STEVEN SHAMES: Is not brain power: "African college students are doing exceptionally well....In 2000, Africans averaged the highest educational attainments of any group in the United States - higher even than whites and Asians, according to Vanity Fair, July, 2007. [From a 2003 study by John R. Logan, Lewis Mumford Center at the State University of New York - Albany.] The problem is lack of opportunity for millions of children living in poverty. The issue is a lack of funding for programs like ours, programs dedicated to finding and cultivating leaders among the dispossessed.
KINDSEIN: What does Uganda's Government think of LEAD Uganda?

STEVEN SHAMES: The Government of Uganda supports our efforts. They see us as part of the solution. We were recently honored at a reception for the new UN Ambassador in Washington. John Nagenda, press advisor to President Museveni visited our program in Kampala. In fact he has donated to LEAD Uganda. The head masters and teachers at the best Ugandan schools work closely with us. We look forward to working with Ugandans to build our next project, a state of the art computer school.
A bad hair day
KINDSEIN: How do you feel when coming back from Africa and finding somebody without motivation?

STEVEN SHAMES: I go through culture shock not when I go to Africa, where I feel home, but when I come back to the U. S. and hear people complain about meaningless things like they spilled coffee on their new shirt. I mean who cares? We have an expression here, "a bad hair day". To have a bad hair day is to be miserable because your hair is not "right". Many people are concerned about superficial things. They are obsessed with material objects. Focusing on extraneous things can make life empty. But, our job is to educate people. Many people here do no know any better. After all, we are all products of our environments. People in Africa often do not have the choice. It is not that they are better.
KINDSEIN: Do you think a project like LEAD Uganda would work in a Western country? Have you found any difference between a child from Uganda and a child in any depressed area of New York, for example?
STEVEN SHAMES: There are more similarities than differences between children in Africa and those in the U. S. or Europe. There are cultural differences but basically a program like ours could work here also. In fact, there are programs that do what we do here.
The Barrack Obama story proves this beyond any doubt. He was one of these disposed kids. I have personally mentored two children from The Bronx, who are now almost 40. Both are leaders. One who grew up without his father owns his own business, another --whose mom was a crack addict -- is a supervisor at a food company.

KINDSEIN: Do you have anything to do with "Friends of the Children"? Are you also involved with it?

STEVEN SHAMES: No, Friends of the Children is a program I wrote about and photographed. I did a video on them. I used them as a model for LEAD Uganda. Another model was A Better Chance, an educational program for poor children (mostly from ghetto areas) in the United States.
Schools in Africa

KINDSEIN: In one of your photographs, you can see two children who need protection to go to school. Why?

STEVEN SHAMES: The rebels operate right near the IDP camps where they live and often raid the schools to abduct children. In the photo you mention, two of our students - both former child soldiers who live in Pader IDP camp - are returning home from boarding school during vacation. Since they must travel for 2 hours through territory where rebels operate, the soldiers protect them.
KINDSEIN: Many people are trying to change the educational system in the Western countries, because it is not working as it should. You talk about your children going to the best schools in Africa. How "good" are the best schools in Africa, compared to the best in Europe or USA?
STEVEN SHAMES: Most of the best schools in Africa do not have the equipment that a school in a ghetto neighborhood has. Another issue is curriculum. Unfortunately much of education in Uganda is done by rote learning. Two of our students, here on a speaking tour, visited schools in The Bronx and Brooklyn. They thought they were incredible, when in fact, it was not so good compared to suburban schools. They later visited some of the best prep schools and suburban schools.
«We do not want to perpetuate colonial attitudes.»
KINDSEIN: What is your task in your Foundation? Do you go often to Uganda? How could anyone help without money? Do you receive the help and volunteers you need? Has the financial crisis affected your project?
STEVEN SHAMES: The Stephen Shames Foundation raises money for the LEAD Uganda program. We also raise awareness. We use photography and video to do this. Pictures speak directly to the soul. I think people see how incredible our kids are in the photos.
LEAD Uganda is the name of the program. LEAD Uganda is a joint project of the Stephen Shames Foundation and Concern for the Future (CFTF), an indigenous Ugandan non-profit, that looks after the children. I started this but three years ago turned it over to the Ugandans. The formed CFTF. They run it. I am not even on the board of directors. That is how it should be. The Ugandan staff has to do it. We do not want to perpetuate colonial attitudes.
We have volunteers who work with us. We partner with churches and schools. One partner, Forefront Church in New York City has been particularly helpful. Not only does the church give us 5% of their collections, but volunteers from the church are organizing two fund raising concerts for us. The church traveled to Uganda to meet the staff and students last August. They are taking a larger group this August. They will run workshops for the children. One workshop will be on how to apply to college.

We also have teachers who work with us. One, Marsha Vernon, designed a school curriculum to teach how AIDS, war, and poverty affect children in Africa. We put it on our website free for anyone to use.
Many of the Ugandan guardians volunteer also. We could not do this without volunteers. They are our heart and soul. We have an incredible staff in Uganda. They are also vital to our program.
«There are many ways to lead»
KINDSEIN: What happens if the children don't reach your expectations?

STEVEN SHAMES: A few of our students don't do well in school. We promise our students they can graduate from high school. The students know that they may not go to university if they do not get a first grade. We treat them as we would our own children. They remain in our family, but they may be on their own once they graduate from high school. We offer some of them vocational training so they can support themselves. But that is not guaranteed. It depends on how hard they work and their attitude. Laziness is not encouraged.
We realize not every leader is academically gifted. One student Wasswa was failing academically. Yet, this young man is a gifted at photography, video, and writing. He is a wizard at computers. He sat down at my computer and taught himself Photoshop in one day. We sent him to a video school. I know he will be a known artist someday. Wasswa is charismatic and a leader. We look for our students talents and try to nurture their abilities. There are many ways to lead.
Another student, Jimmy, did not do well enough to get a government scholarship to college. He also wanted to work to help out his mom, who had no income and was in danger of being evicted from her home. He got a job in Dubai as a security guard. We loaned him money so he could go there. He goes to school in Dubai when he is not working. He is not only paying back the loan -- but despite his small salary he donates money to our program to help the other students.
KINDSEIN: What new projects do you have in mind?
STEVEN SHAMES: I have a book coming out this fall that contains my photos and the stories of LEAD Uganda students. It is called: I am a Leader Now, Star Bright Books is the publisher. I just had an exhibition at the Steven Kasher Gallery called "Childhood & Youth" . [Some of the photos can be seen here]

KINDSEIN: What have you learned from LEAD Uganda?
STEVEN SHAMES: I learned that anything is possible if you have the right plan and are willing to work hard.
KINDSEIN: Thank you, Steve, and good luck.

–––––
Steven Shames is 62 years old and lives in Brooklyn, New York. He is divorced («But I remain best friends with Phyllis) and has a son, Joshua, 34 years old. «I met a wonderful woman, Andrea, who I will marry soon.»
Stephen Shames: Childhood and Youth. Exhibition at Steven Kasher Gallery, New York.
---
KINDSEIN © 2005-2013
Los textos de KINDSEIN están sujetos a una licencia Creative Commons.
Puedes usarlos siempre que cites la fuente y no los modifiques ni los vendas.